(Photos: courtesy of Jeremy Lee)
I was so fortunate to have been invited to join fellow members of the ethical community at the Conscious Market a few weeks ago. I was given the oppurtunity to meet some incredible people and purchase some even more incredible items. The event was held in the Art District in DTLA. The location was set with several tables filled with all ethical and sustainable items. It was an entirely new experience not having to worry about who made these products or how their creation harmed the environment. Purchase had zero risk. I loved that I had the ability to see everything in person. Most of the time I'm left to guess how something will fit or look because most, if not all of my ethical clothing is purchased online. This event was so special and so fun. I can't wait for the next one! Be sure to check their website out and follow them on Instagram! Don't forget to subscribe to my blog to find out when they're holding their next popup and many more events just like it.
There website offers a page of all of their vendors with all of their websites, but to make life easier, I've offered direct links to their websites below! Want to not only look authentic, but be authentic at Coachella this year? Then you're definitely going to want to check them all out, just click their name to check the site.
Erika Bee is by far the sweetest and definitely fulfills the title of Queen Bee. A rock star in the environmental community whose jewelry is the embodiment of her core beliefs and incredible style. Not only is she the co-founder of the Conscious Market, but she also makes her own jewelry by hand. She locally sources her materials from artisans and local markets and repurposes them into her own designs. She also uses 100% recycled ethical precious metals. She can tell you where her materials are sourced from, how she makes her pieces, and that her company is 100% green. She truly is a gem.
Catherin Von Ruden's chocolate is insanely delicious. I got to try just about all of them. If you have a sweet tooth but don't want to suffer the consequences of eating too much chocolate, than this is the chocolate for you. All products are fair trade, organic, and sustainably sourced. She offers a wide range of flavors from milk to dark and nutty to smooth. She also uses fun and different ingredients like orange peels, chili, and matcha!
Enrou is your one stop shop for all ethical and sustainable accessories. I was able to meet Jessica, however her partner Ann was unable to attend. Jessica is so precious, as is her company. Their products are sourced from global markets to create one integrative market. I also learned about some other amazing companies such as the Giving Keys.
Shaun King
This is not Shaun King himself, but these are his incredible cutting boards and cheeseboards. They're made from trees in his front yard in Idaho, talk about locally sourced. Thankfully, one of these babies came home with me and I can guarantee that it is one of only a few of its kind. Unfortunately, these were only available at the event and can't be purchased online.
Committed to maintaining a low carbon footprint while being based entirely in L.A., Linden is the pinnacle of functional sustainable fashion. On top of which, they are an entirely female owned company, empowering women in the world, and through their clothing. This is why I love Linden and everything this company stands for.
Made, designed, and based in L.A., Echo + Air is a brand that I have loved for a long time now. It was the only brand I was able to recognize before having arrived to the market and I was so glad to finally see their clothes in person. If you have visited my Where to Shop page, you know they've been on there since the beginning. I was fortunate enough to have met Jordanna Howard, co-owner of Echo + Air, and awesome as hell. Their minimal designs and soft fabrics make for a effortlessly chic outfit.
Although I didn't get to meet the creator of A. Bernadette herself, I met her bags and they looked awesome. She works with artisans in Uganda creating accessories, bags, and apparel from recycled/up-cycled materials.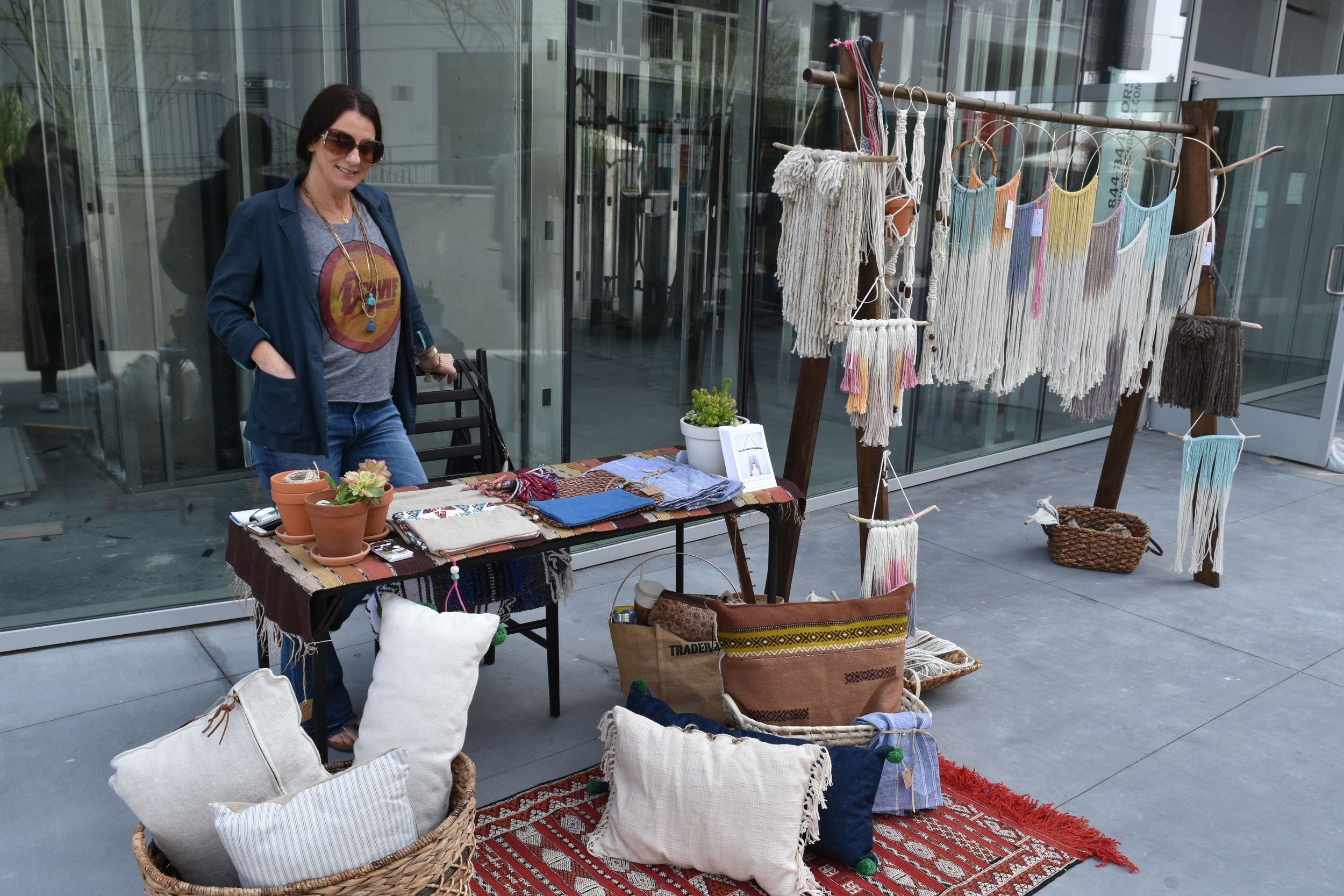 Erin Ferro is so badass, especially sporting her Bowie tee. She's really the coolest woman and had the coolest stuff to match. She carries her items in the link provided above, as well at on her two etsy's. She has one for Dreaming Gypset and her jewelry on Mamacita. She macrame's her own dream catchers, makes her own jewelry, and her own tassels, all from organic, natural, vintage, and repurposed materials. I also took home the coolest dream catcher made from organic wool and driftwood. I can't wait to show you guys where I place it.
And lastly, special thanks to Stumptown Coffee and Numi Organic Tea for sponsoring this event. If you haven't tried Stumptown Coffee or Numi Tea, you haven't lived your life. Another special thanks to Repurpose for providing some renewable, non-toxic, and BPA free, dishware! If anyone ever has an event or party, be sure to purchase these for the occasion.